I am going to explain the step by step process of how to enable blocked extensions in Google Chrome. No matter whether you use a Windows enabled laptop, I am sure most of us use Google Chrome. Similarly, now that Microsoft Edge also has come up with extensions on its own. However, Google Chrome remains our favourite. If you use Google Chrome then you know the importance of extensions in a browser. They not only help you to do stuff faster but they make your life easy. For example, while shopping you could use an extension that is going to make sure that you get your coupons applied. And the extension will search it for you instead of you trying to find out on the internet.
When you work, sometimes due to user or administrator restrictions extensions might be blocked in Google Chrome. Except a few. However, we mostly need almost all extensions that are really truly required for us. With that said, in those cases, all of us would like to have the extensions enabled so that we could use them. Here are the steps using which you could give a green signal to the blocked extension so that you could use it in Google Chrome.
How to enable Blocked extensions in Chrome
Step 1

Open Command Prompt in Admin Mode. Make sure it says Administrator when you open it.
Step 2

Open Registry Editor in Administrator mode by entering REGEDIT in the Command Prompt window in the command line. Your Registry Editor should be open now in edit mode.


Step 3

Go to this location by entering it in the Registry Browser and Hit Enter
Computer\HKEY_LOCAL_MACHINE\SOFTWARE\Policies\Google\Chrome\ExtensionInstallWhitelist



Remaining Steps to Enable Blocked extensions in Chrome
Step 4

Go to the Chrome Webstore and open the page from which you are expecting to download the chrome extension. From that page copy the unique character from the page URL. You should be able to see the unique characters in the URL once you are on the page of that extension as highlighted below. In this example, I am going to share with you as Google Keep currently is blocked for me.

Step 5

Go back to Registry editor and create a new string value by right-clicking. Enter the next number as per your registry. In my case, it was 4, so I entered 5 and clicked outside. Once you do that it should get saved and then you will have to double click so that the window opens so that you can enter the data. When it opens then paste the values we copied from the URL earlier in the Value Data field and click on Ok. It should look like the 4th part image as shown below.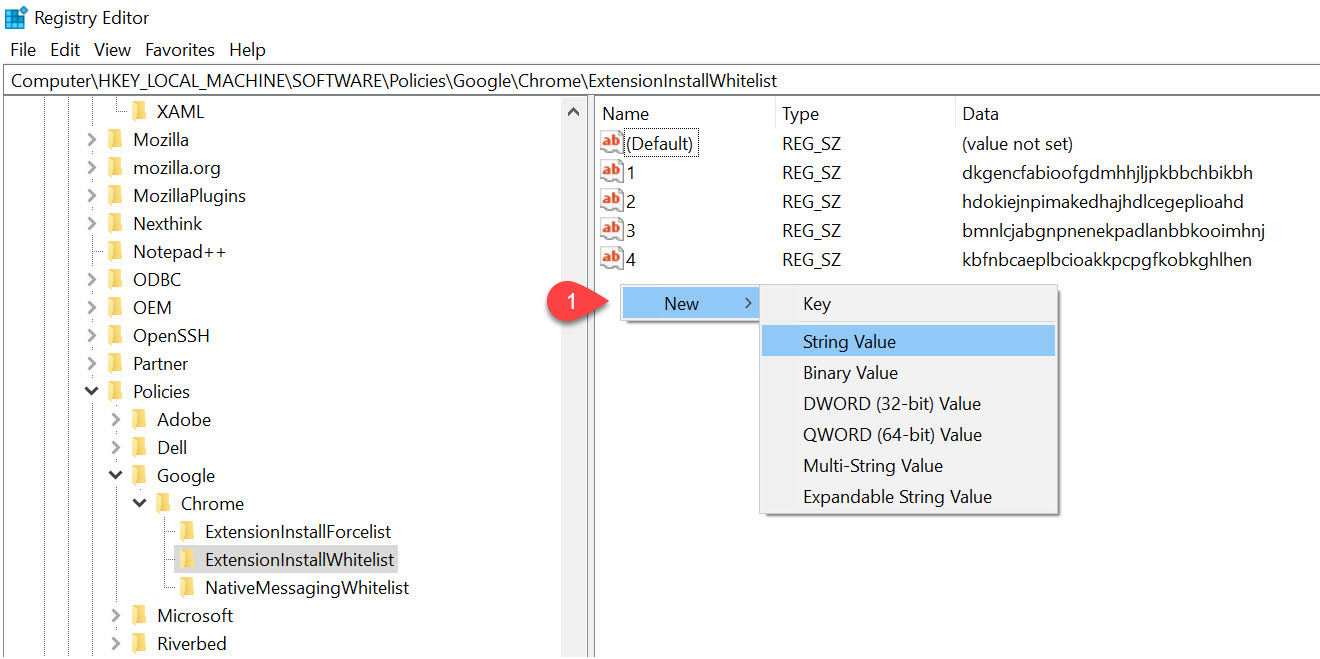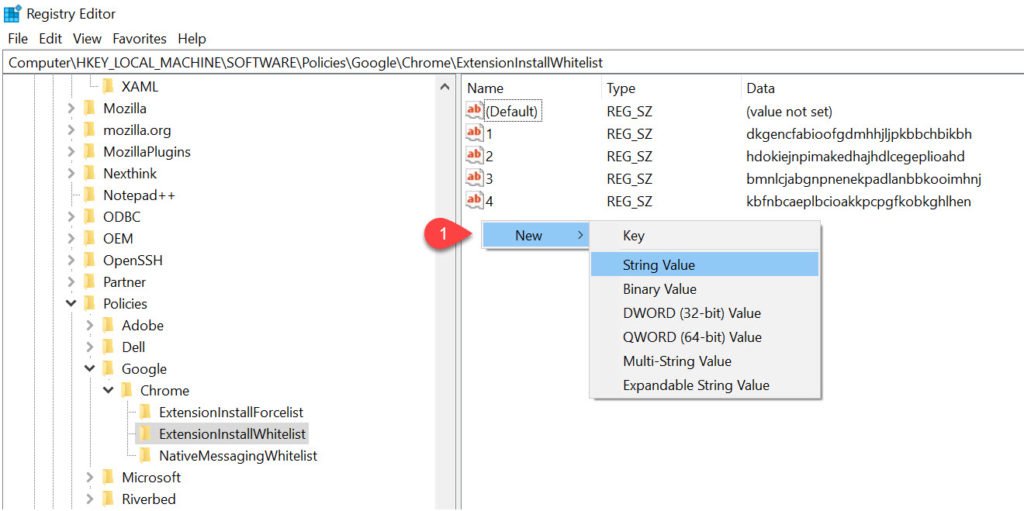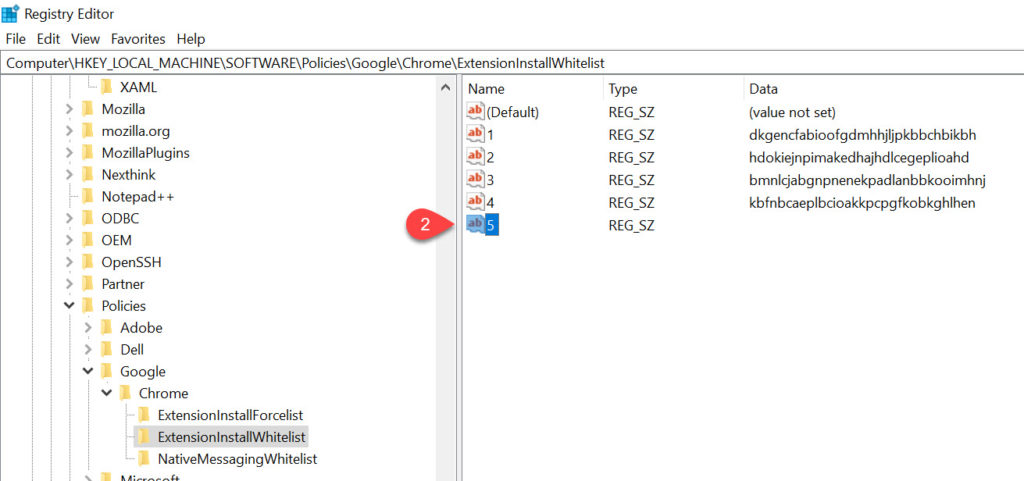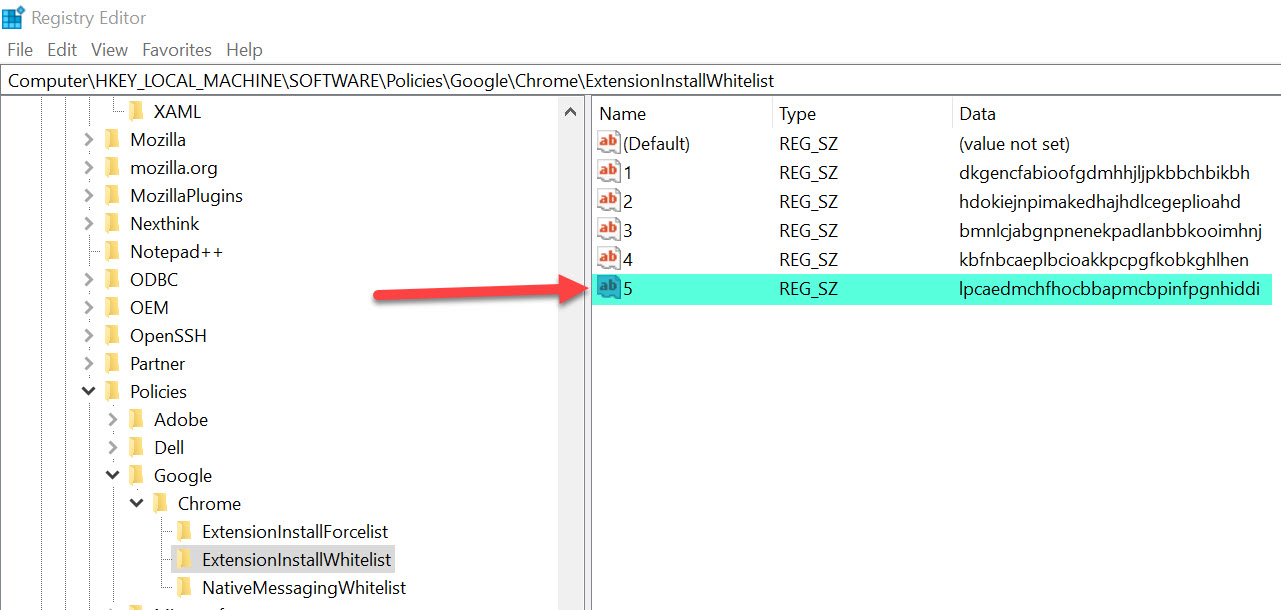 Step 6

Close Registry Editor, Close Command Prompt and Close Google Chrome. If you could close everything from the task manager that would be even better. After you close it, wait for a few minutes and then open Chrome again. Go to the same page for which you wanted to install the chrome extension and now you should be able to see the option enabled for you to add to chrome. Click on it and it will install the extension for you. If it does not work, then restart your computer once and it will work.


In case if you are still facing some issue, then let me know in the comments below and I would be more than happy to help you out. Hope this extensive article on How to enable Blocked extensions in Chrome in Windows helps you.
I am pretty sure there are scenarios where you are using a Windows laptop that might not be yours or maybe it is a laptop that you are using that has been assigned to you. In those cases as well there is a way you open the command prompt in Administrator mode. Note that, this complete process works only if you have your command prompt open in Administrator mode. Or you have access to modify your registry editor on your laptop. If that is not the case, then I am afraid this solution might not work for you.
If you are having such a laptop and you are having some issue, then please write to me in the comments below. I will try to find a solution for you and then let you know. Or if this solution worked for you, even if you did not have access to Administrator mode for Command Prompt or Registry Editor then also let me know in the comments. So that I can update the article accordingly to reflect the same information. 🙂
Here are some of our other articles that you might be interested in: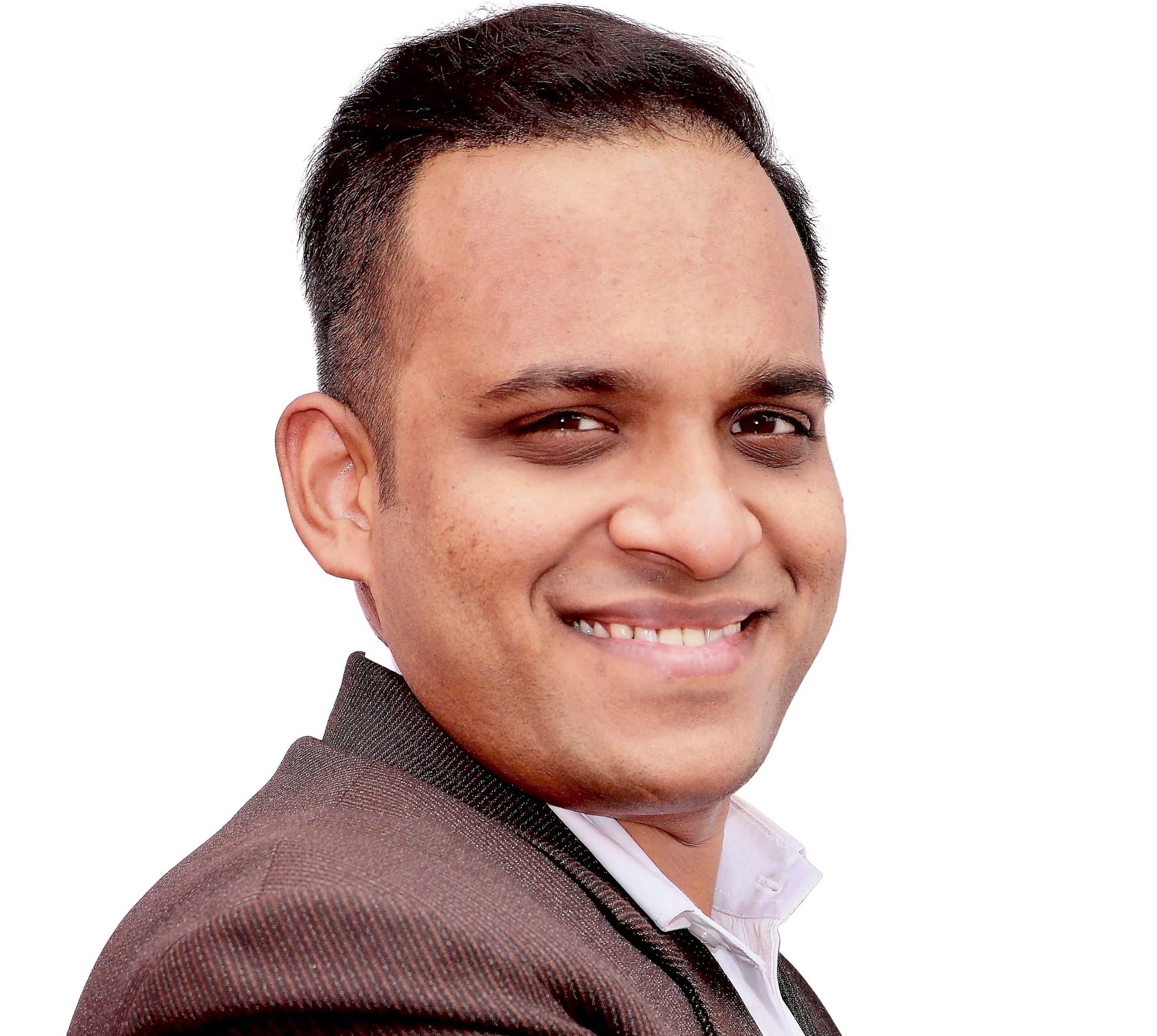 I am a 31-year-old dude from a lower-middle-class family hailing from a small village Narasinghpur in Cuttack, Odisha, INDIA. I have a post-graduate degree in M.Tech from BITS Pilani. I started blogging back in June 2014. You can check out my journey and all that I have learnt all these years on my website.