Today I am going to talk about Google Analytics by MonsterInsights Plugin Review and Usage. Google Analytics by MonsterInsights is a new plugin, and earlier the name was different. So do not confuse between the earlier or any other plugin with Google Analytics by MonsterInsights. If you blog, then you already know what Google Insights is. However, if you are new to Content Marketing then let me tell you what it is. Google Insights is an awesome tool for tracking and comparing trends. Most of us use it on a regular basis. However, the common misconception of the tool is that it's a proper keyword research and traffic estimation utility.
Google Analytics by MonsterInsights Plugin Review and Usage
Google Analytics is a tool to track and compare the trends and results of your keyword that you use in your blog. You will be able to follow each and every detail of your blog. Starting from where your users are staying for a long time to how many users came to your site. How many users are from the UK and how many users are from India. It helps you to increase your sales and visitors by making necessary changes to your blog.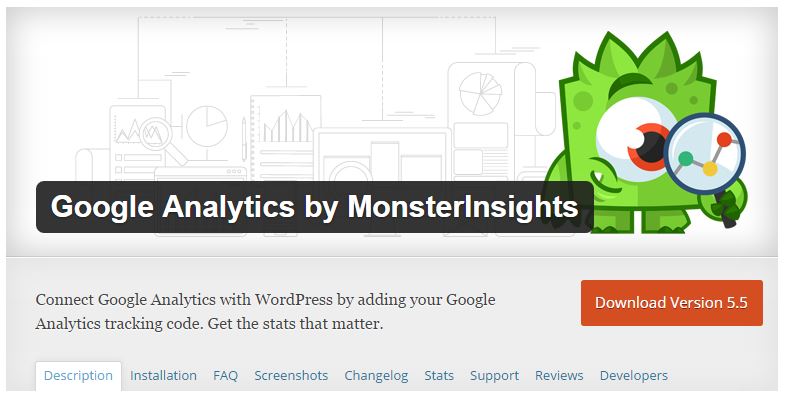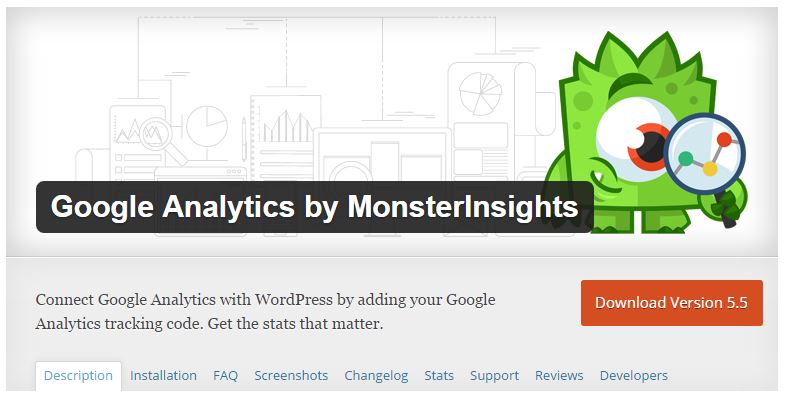 The plugin here we are talking about is Google Analytics by MonsterInsights. It helps you to do everything from your blog. You do not have to make any code changes or what so ever. You can download the plugin from WordPress repository from this URL. Once you download and activate the plugin, there is nothing much to do. You will have to add a tag, and that is all. Rest all things will be taken care of by the plugin itself. Once you activate the plugin, you should be able to see the settings in the plugin area. Go to the settings and you should be able to see five tabs available there. Such as General, Universal, Advanced, Custom Dimensions and Debug mode.
If you have never used this before then under the General tab, you will be able to see Google profile against which there will be a button which reads Authenticate your Google Account. You will have to click on that to authenticate and map Google Analytics with your Google Account to the blog. Once you login to your Google Account it will ask your permission to access the analytics account with the same email. Then there will be a code which you have to copy and use it in the area in the Google Analytics settings page. Here is a GIF image that will make you understand better.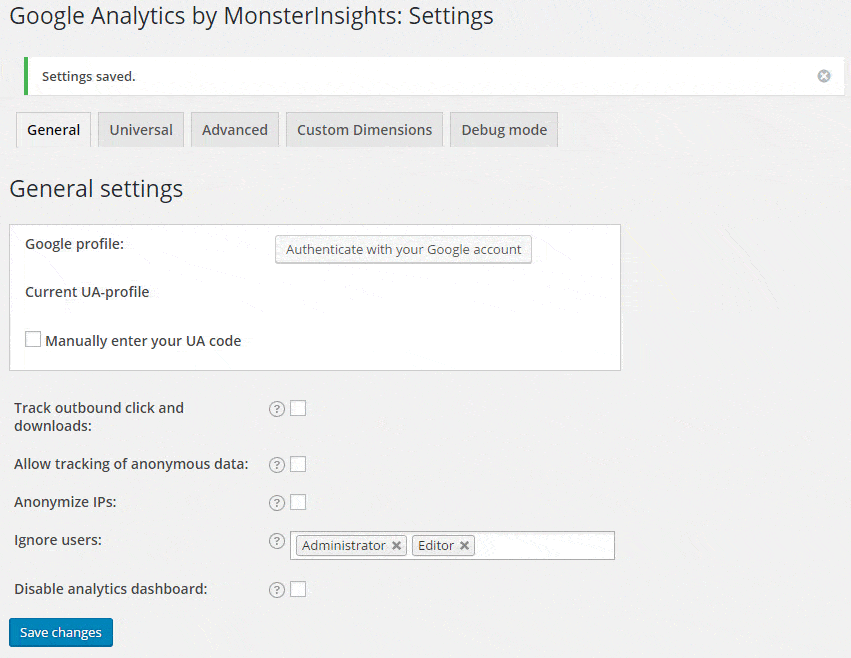 What I showed above, is the step to map your Google Analytics ID to WordPress blog but before you do this make sure that you add the website to your Google Analytics account. Once authenticated you can select the site from the drop down and from there the plugin will add the tracking code to all your pages. Once you choose the website in the dropdown make sure that you select all the check boxes over there except Disable Analytics dashboard. Checking track outbound click and downloads will help you to understand where exactly your visitor is going after leaving your site so that you can take actions to refrain the user from leaving.
Checking Allow tracking of anonymous data you help Google to help you provide the data more correctly and accurately. Checking Anonymize IPs you respect the privacy of your reader and do not give all the information to Google, which is user specific which again builds the trust of your user on your site. In the Ignore users area make sure to include everyone but the subscriber as the subscribers are the business for your site, and you need to track them to make sure they get what they are looking for in your blog. Do not check Disable Analytics dashboard as it will disable the complete analytics dashboard and stop fetching latest data from your site. After you do everything, the General tab should do something like the below. If it is as shown below, then click on save changes.
The passage is all about General tab in Google Analytics by MonsterInsights Plugin Review and Usage I can talk about, and you need to do. Now let's see what in other tabs could be done. The next tab is Universal. Here you should see three options, and you should check all the options except Enable Demographics and Interests Reports for Remarketing and Advertising. The reason is the usage of this function is affected by privacy and cookie laws around the world. As I am talking about Google Analytics by MonsterInsights Plugin Review and Usage, I think it is my duty to tell you that before even think about using this function be sure to follow the laws that affect your target audience. I am always in support of not using this service at all to avoid any international legal implications.
Enabling universal tracking will enable Universal tracking but before using this functionality make sure that in your Google Analytics account you have enabled this feature. Please read this guide to learn how to do that. Checking Enhanced Link Attribution will add enhanced link attribution to your blog. After you do here is how it should look.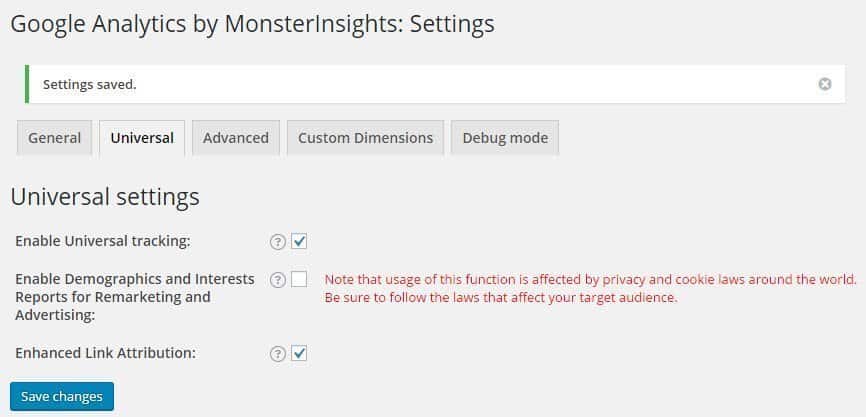 Now the next tab is the Advanced tab in which we have to make few changes to use the plugin to the fullest. As you must be knowing there are some plugins which use some of the tags of the Google Analytics to provide an immense amount of details and help the blogger to provide more value. So let's jump in.
In the advanced tab, make sure that track download as is selected as the event. Extensions of files to track as downloads are the area where you specify what kind of file to be tracked as a download for your blog, you can add more extensions if you want to. In the area that says Track full URL of outbound clicks or just the domain make sure to use just the domain or full URL if you want to. I go with full URL because I need to know if my user is leaving my site then where he is going to. If you have any subdomains that you want to track then make sure to mention the subdomain name in the box available there. If you wish to set the path for internal links to track as outbound links, then make sure to provide the value for the path. In the next are you can put in the value with which you want to tag the links. The area is Label for those links, and you can put the value in that box available.
[bctt tweet="Read More About Google Analytics and the setup of the plugin here." username="BloggersBooks"]
There will be another three checkboxes, and I want you to select all of them. Tag links in RSS feed with campaign variables makes sure that when in your RSS feed the URL is mentioned it is working as a campaign, and every detail is being tagged if anyone is going to the link using RSS. As I am doing this X Google Analytics by MonsterInsights Plugin Review and Usage I must tell you that you should not use this feature if you use FeedBurner, as FeedBurner can do this automatically and better than this plugin can. Check this help page for info on how to enable this feature in FeedBurner.
Allow anchor adds a call to your tracking code and makes RSS link tagging use as #well. Add adds a call to your tracking code of Google Analytics, and thereby allowing you to use _link and related functions. You can know more about these tags in Google or if you click on the tags will take you to the page where you can find more information. If you have any custom code, then you can add it to the textbox in that page to activate it with Google Analytics. This allows you to add a line of code, to be added before the _trackPageview call.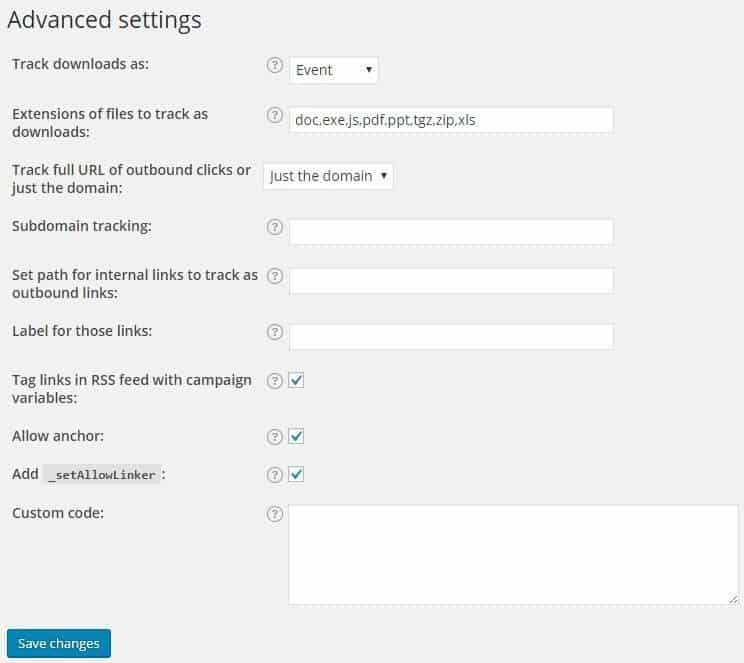 The next tabs are Custom Dimensions and Debug Mode. Custom Dimensions are for pro users and whoever is having premium access to the plugin can see and use this tab. The debug mode is for you if you have any issue. Mostly this is being utilized by the developers, and you need not do anything being a regular user. There is another thing we have not discussed yet i.e. the Dashboard of Google Analytics by MonsterInsights. Since we are talking about Google Analytics by MonsterInsights Plugin Review and Usage, we also need to check that side.
Just above the settings you can see the dashboard as a link in the admin area. Click on that and it will take you to the dashboard of Google Analytics. There are again 4 tabs.
Overview: Here you will be able to see details of your blog in a graphical manner. Sessions and bounce rate are two graphs that you will be able to see here.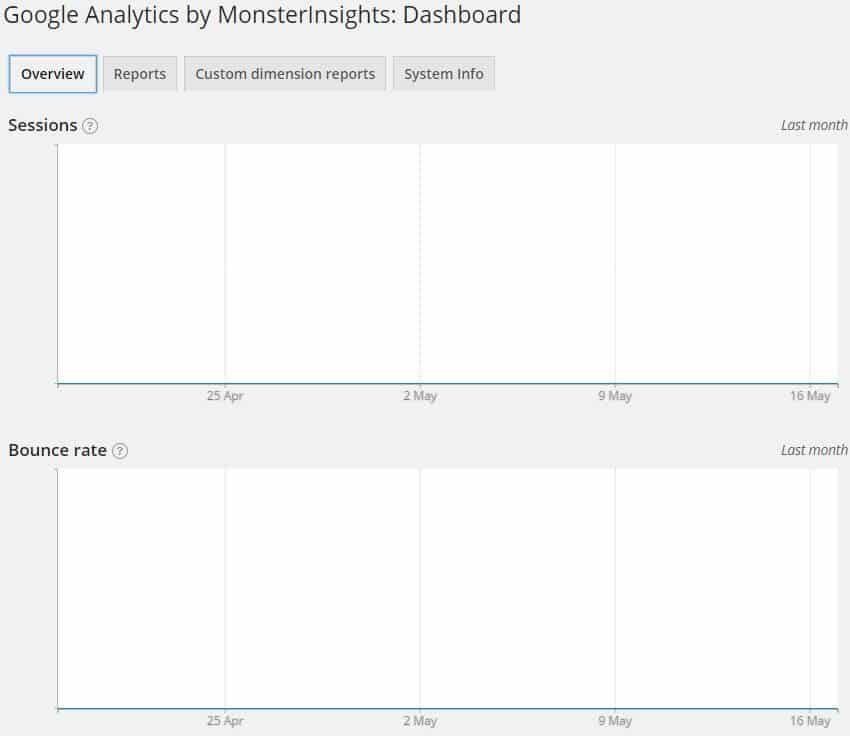 Reports: Here you will be able to see a graph for the criteria which are Traffic sources, Popular Pages, and Countries from which you are getting visitors.
Custom Dimension Reports: As mentioned above this is for Pro users.
System Info: Here you will get the server details along with the WordPress and theme details etc. You will also be able to download the information as a text file from that page itself.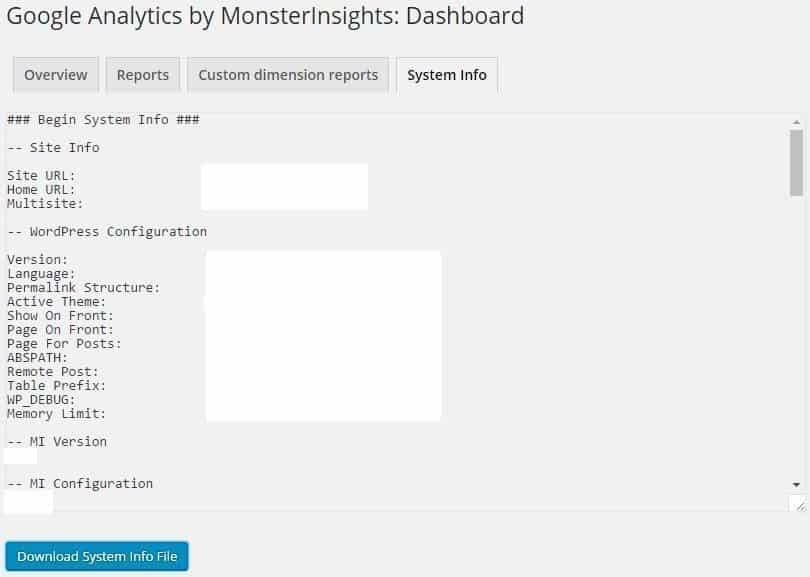 With this, I have mentioned that I know about this plugin in Google Analytics by MonsterInsights plugin review and usage. If you find any information wrong or have any further details to add which I missed out on, feel free to include it and comment below and I would love to add your input into this Google Analytics by MonsterInsights plugin review and usage post with your blog URL. Cheers!
Here are some interesting articles for you: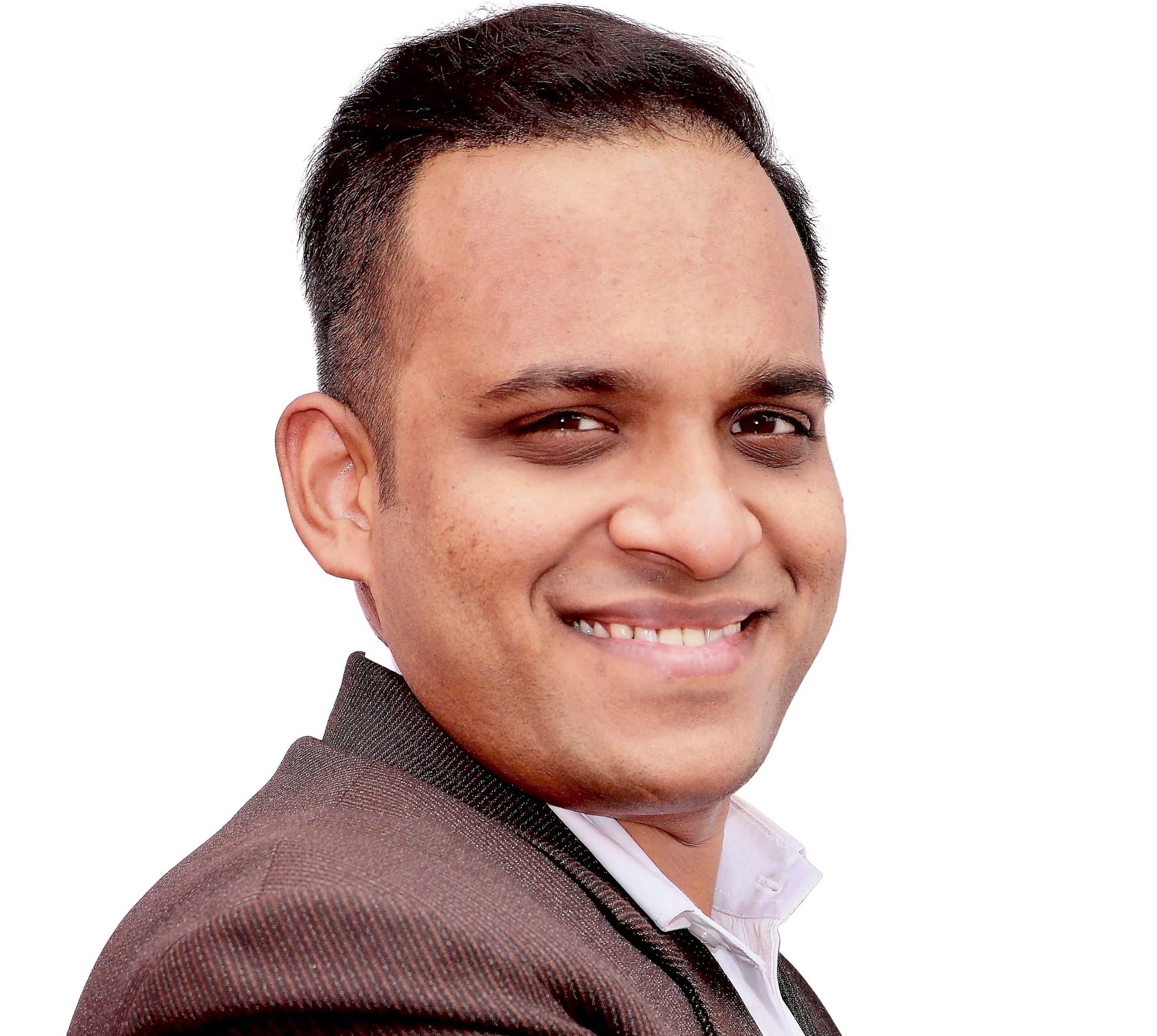 I am a 31-year-old dude from a lower-middle-class family hailing from a small village Narasinghpur in Cuttack, Odisha, INDIA. I have a post-graduate degree in M.Tech from BITS Pilani. I started blogging back in June 2014. You can check out my journey and all that I have learnt all these years on my website.