People love to watch movies or videos on their Smartphone and Tablet to pass their idle time. But it is always not possible to stream movies, videos or music directly from online. So they love to download some videos or movies on their phone or tablet. And our today's post is for those people. And here we are going to share some Best Video Downloader App for Android Phones. Using any of these Video Downloader Apps, you can download videos, music or movies from any website.
Let's check our recommended Android Video Downloader Apps and get your desired one now.
Best Video Downloader App for Android Phones
FVD – Free Video Downloader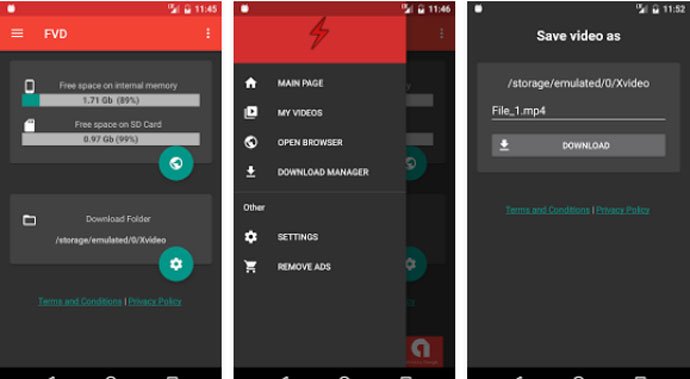 The FVD is one of the widely used video downloader apps for Android Platform that available in the Google Play Store. This is also one of the top downloaded and top rated video downloader app. The simple and user-friendly interface makes it easy to download videos or movies from any website using the FVD App. It's really easy to download videos from any source using this app. After installing the app on your Android phone or Tablet, you just need to visit the website from where you want to download videos. A FVD icon will appear on the video and you need to click on the icon to start downloading the video. The app also supports to download multiple files at a time.
Download FVD from Google Play
All Video Downloader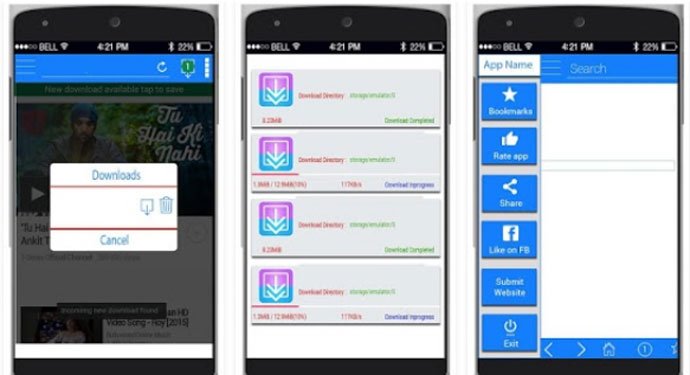 The All Video Downloader is the best option to download videos on various format. The high speedy downloader can download MP3, MP4, AVI, FLV, MPK and various format video and audio. Like the previous one, this app also comes with user friendly and easy to use features. Some simple steps you need to follow to download videos using the app. After installing the app, browse any video website, play the video and click on the All Video Downloader app to start downloading. You can paused or resumed download any time and can run on the background. The app support to download large size video that is up to 2GB.
Get the All Video Downloader
DownTube Free Video Downloader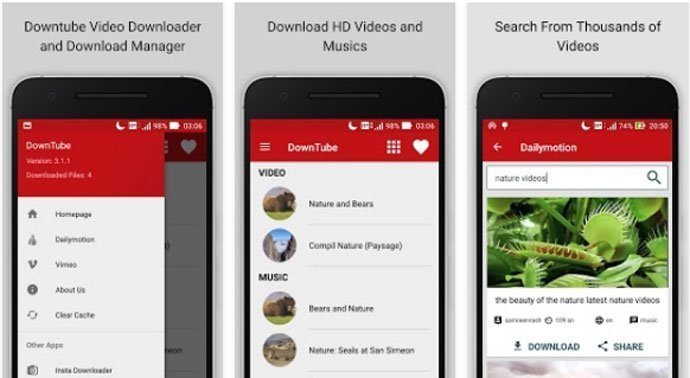 Another most popular and top downloaded Android Video Downloader app. The DownTube Free Video Downloader is mainly popular to download music videos or large size movie files. HD quality video also supported by the app and faster downloading feature can download videos quickly with slow internet speed. There is an option to choose video resolution while downloading the video. There is a built-in search option available to search and download latest movies or videos. The app also suggest latest videos and movies on your language according to your preference. However, you can also download MP3 Music file using this downloader app.
Get It Now from Google Play
VidMate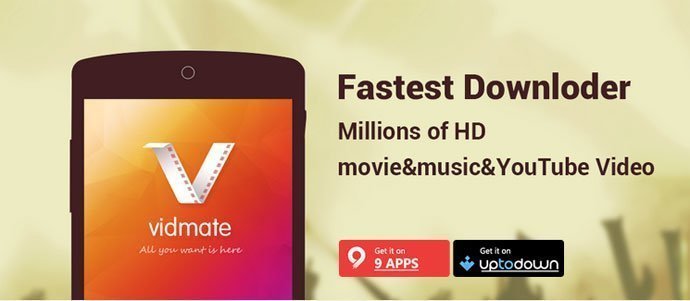 With all of the previous video downloader app, you can't download videos from YouTube. Yes, they can't allow downloading videos from YouTube because of their terms and conditions. But using the VidMate, you can easily download videos or movies directly from YouTube. The app also supports most of the video streaming sites like DailyMotion or Vimeo. There is a built-in web browser available to browse any website and download videos. If you want to download latest movies from your Android device, then VidMate is also ideal for you. The app will suggest latest music videos and movies on your preferred language. There is also built-in video player available to play downloaded videos or movies. The app also let you download videos on your device storage or Micro SD card. So after all, this is the best option to download videos on your Android phone or Tablet.
But the problem is, VidMate is not available at Google Play Store. You need to download the APK file and install on your device from their official website.
Download Manager for Android
Another top rated and widely used Video Downloader App on Google Play Store. The Download Manager for Android is the best option to download any kind files from online including videos, audio, files or documents. The app also considers as best Facebook Video downloader app, because you can easily download videos from Facebook using the app. The built-in browser will allow to visit any website and download anything you want. The quick search option helps to find videos and movies to download it quickly. The built-in file manager option also available to save your downloaded files or videos on Device storage or Micro SD card.
Final Thoughts
Using the right Video Downloader App is the best idea to save your time and energy while downloading videos from the web using your smartphone. And hope you will find this list of Video Downloader App for Android Phones helpful.
Here are some of our other articles that might interest you: