Lots of errors and bugs may affect Outlook email client regularly. It may slow down the performance of Outlook or corrupt its data file i.e., PST or OST. One can use scanpst.exe tool to fix such issues manually. I am going to talk about how to locate scanpst. Scanpst.exe is an inbuilt tool provided by Microsoft company to repair OST files. One can use this tool when Outlook refuses or unable to open a .ost file. It scans each item folder by folder and checks data integrity issues. The user has to locate the scanpst.exe file in Outlook to repair OST file. After starting Inbox Repair Tool, the first thing it prompts is the location of .ost file to scan. Depending on the versions, the location of scanpst.exe changes. This blog explains how to locate Scanpst.exe (Inbox Repair Tool) in Outlook to Repair OST file.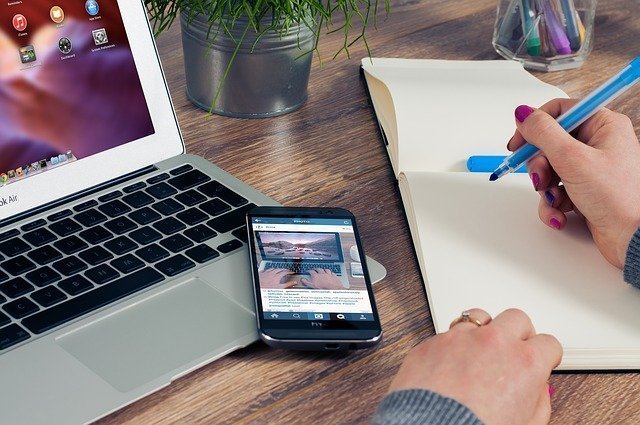 Some Best Solutions To how to locate scanpst .exe File in Outlook Manually
Solution 1
1. On Windows PC, first open Task Manager
2. You will see a Process Tab, click on Process Tab
3. Now, you will see Microsoft Outlook
4. Right-click on Microsoft Outlook and select Open File Location

5. Convert data without Outlook Installation option will be given.
6. Now, in this folder, the Inbox Repair Tool is located by the name Scanpst.exe.
Solution 2
Location of Scanpst.exe changes according to versions of Microsoft Outlook. In this solution, steps are given below to locate Scanpst.exe manually.
1. Outlook 2016 – Go to C:\Program Files\Microsoft Office\Office16
2. Outlook 2013 – Go to C:\Program Files\Microsoft Office\Office15
3. Outlook 2010 – Go to C:\Program Files\Microsoft Office\Office14
4. Outlook 2007 – Go to C:\Program Files\Microsoft Office\Office12
5. Outlook 2003 – Go to C:\Program Files\Common Files\System\MSMAPI\ to locate Inbox Repair Tool.
6. Outlook 2002/XP – Go to C:\Program Files\Common Files\System\MAPI\\SCANPST.EXE
7. Outlook 2000 – Go to C:\Program Files\Common Files\System\MAPI\\NT\\SCANPST.EXE
8. Outlook 98/97 – Go to C:\Program Files\Common Files\Windows Messaging\SCANPST.EXE
Now, user know how to locate the Scanpst.exe File in Outlook and in next part, it is explained how to use Inbox Repair Tool.
Instruction to Use Inbox Repair Tool
1. If you are using Outlook Application, then you have to first shut it down
2. Locate Scanpst.exe file by going to C:\Program Files\Microsoft Office\OFFICE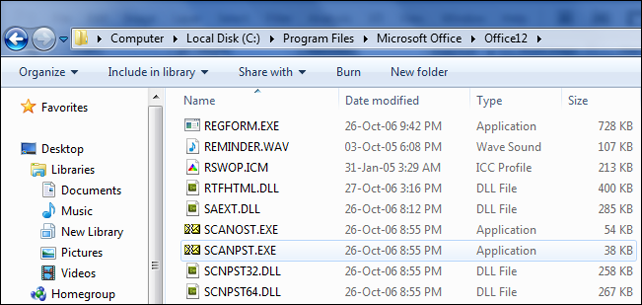 3. To launch the application, double-click on it
4. Browse the folder and go to the folder path where the OST file is saved.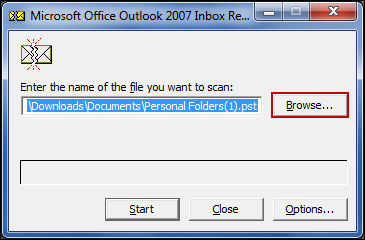 5. Now, to initiate the scanning process click on the Start button and repair Outlook data file (.ost).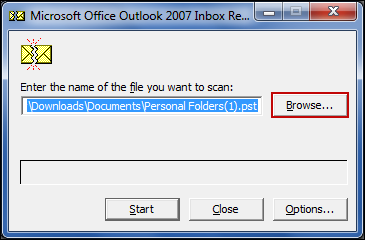 6. Every file will be searched to find errors. All the errors will be reported at the end of the process.
7. To recover Microsoft Outlook data file (.ost), click on the Repair Button.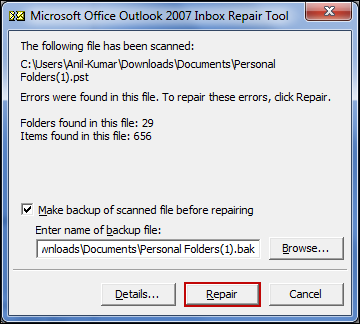 Advantages Of Using Scanpst.exe Tool
Some benefits of using an Inbox Repair Tool for fixing Outlook data file(.ost) are:
This tool scans every folder or file and finds out what is wrong with the file.
It makes sure that location of emails is not changed that is emails are found in the exact same location as in the original.
Using Scanpst.exe to repair Outlook is completely free of cost.
Recovers data from corrupt/damaged/infected files.
Limitations Of Using Scanpst.exe Tool
Some limitations of using Scanpst.exe Tool to repair Outlook manually are:
Manual steps can be very confusing as everyone cannot follow them without difficulty.
For a home or regular user locating PST file can be difficult.
Sometimes messages are recovered in different folders than the original one. So, data integrity is not ensured by Scanpst.exe tool
Some data be changed or compromised as repairing errors may cause more damage to data.
User Can Also Select Professional Tool
Sometimes there are major issues that can not be fixed manually. At that point of time, one can go for third-party tools. A user can opt for professional approach rather than manual approach. Using a third-party software enables a user to solve their issues in the direct and easy way. One such perfect solution is Microsoft OST to PST Converter software. It supports Microsoft Outlook 2016, 2013, 2010, 2007 and all the below versions. It can easily be used by a non-technical person also as it has a user-friendly interface. This tool also has no file size limitation for recovering the OST file.
Conclusion
For a user, it is very important to preserve data. Errors may occur in the system and result in data corruption. A user may also face issues like the application is not opening, hanging of system, slower speed of system etc. So, minor and major issues occur in the system. Now, it becomes easy for the user to locate Scanpst.exe (Inbox Repair Tool) in Outlook to Repair OST file after reading this blog. The first user must go for a manual approach to solve the errors. But if errors are not solved by a manual approach, then just opt for professional approach. The third-party tool is a guaranteed solution to repair corrupt PST file in just a couple of minutes.