India is a diverse country. In fact, it can stand to be the most diverse country with diversity in every aspect like religion, weather, languages and also landmarks. This country is rich in tradition and spirituality. One may find every hue of tradition and lifestyle throughout the country. It is a country where you can find Kashmir, which is the coldest place, the dry Thar desert and also Cherrapunji which experiences the highest amount of rainfall. As you move from region to region, you will notice changes in city layout, soil, city colours, people's dialects, languages or attires etc. Every place embodies it's own deep and mystical history and its historical masterpieces.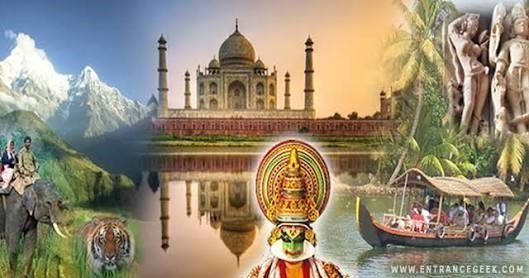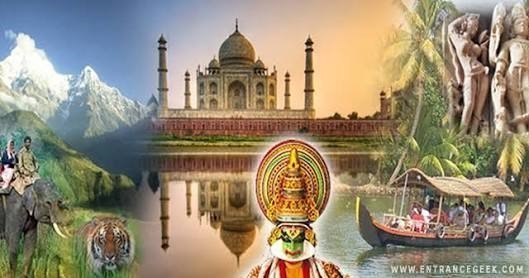 Every year, uncountable numbers of foreigners choose India for their tour plans. The rich culture and tradition of India are quite magnetizing to foreigners. If any of you is planning to visit India, these are the top 5 places to in India visit:
The city Kolkata is famous among tourists as the city which is filled with joy. Kolkata is the jewel of West Bengal and was formerly known as Calcutta. The remnants of the British Ruling period can still be seen in Kolkata as Victorian style buildings, trams, and other architectural beauties. This city is densely populated and is known for its culture, heritage, music, literature, food etc. A tour around the city will take you to an all-new shade of diverse India. Kolkata is one among the top five amazing places to visit in India.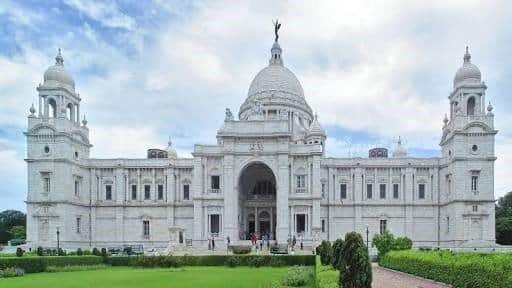 Kolkata sightseeings :
Victoria Memorial – The Victoria Memorial the most popular tourist attraction in Kolkata. The beauty and historical importance of the Victoria Memorial has known it to be the 'pride of Kolkata'. It was dedicated to Queen Victoria and was built between the years 1906 to 1921.
Howrah Bridge – The Howrah Bridge is a cantilever bridge which connects Kolkata and Howrah. Being an old and busiest bridge, it is also a famous tourist spot in Kolkata.
Fort William – The Fort William was built during the British rule when there was Bengali Presidency. This fort is famous among tourists for its historic importance and marvellous architectural style.
Belur Math – The Belur Math was founded by Swami Vivekananda and serves as the headquarter of Ramakrishna Math. This Math is a historic and architectural edifice which attracts thousands of local as well as international tourists.
Indian Museum – Visit the Indian Museum to go through the history and historically important pieces. The museum houses some of the most exquisite collections of antiques, skeletons, ornaments, fossils, mummies, paintings from Mughal period etc.
Birla Planetarium – The Birla Planetarium is the second largest planetarium in the world and the largest planetarium in Asia. The structure of the planetarium is circular in design and is single-storeyed.
Science City – The science City is a famous tourist spot for local tourists as well as international tourists. This science City in Kolkata was opened for people on 1st July 1997. Kolkata's science City stands among the largest and finest science cities of the world.
Eden Gardens – Eden garden is quite popular among cricket lovers as it is the largest cricket stadium in India and the second largest cricket stadium in the world. This colossal stadium is ideal to seat around 66,000 onlookers.
Marble Palace Mansion – The Marble Palace Mansion was built by Rajendra Mallick in the year 1835. It is situated in northern Kolkata in Chorbagan. The mansion houses artistic masterpieces by Reuben. You can also find magnificent paintings by some of the greatest painters like Van Gogh, Rembrandt and Reynolds.
Read Here: Yahoo Search vs Google Search which is best.
Tajpur – The Tajpur beach falls between Shankarpur and Digha beach. It is a secluded beach and now emerging as a major tourist spot in Kolkata. This beach is the best place to spend some quality time in a quiet place and bask in the warmth of the sun.
Birla Mandir – The Birla Mandir is popular among devotees and other tourists with the keen interest in its architectural structure.
Mother House – The tomb of Mother Teresa is also a popular tourist attraction in Kolkata. Her tomb is maintained and managed by her followers and missionaries. Now, Mother Teresa's legacy is being continued and promoted by her followers.
Birla Industrial and Technological Museum – The Birla Industrial and Technological Museum is the top most famous tourist spot in Kolkata. This museum is the oldest museum in the country India. At first, this museum was known as Birla Park. But now, this palatial museum is visited by hundreds of people and tourist to visit the galleries of the museum and the 3D shows etc.
Rabindra Sarovar – Earlier known as Dhakuri Lake, the Rabindra Sarovar is a famous artificial pond. One can see hundreds of Russian and Siberian migratory birds around this lake. This lake is spread across 75 acres and is amidst a children's park, an auditorium and a garden.
Shobhabajar Rajbari – The Shobhabajar Rajbari was constructed by the Shobhabajar family which was a royal family of Kolkata. One can adorn the Bengali style architecture of the house. The carvings and the designs of the architectural structure of this house speak volume about the Bengali rich culture.
Kalighat Temple – The Kalighat Temple is dedicated to the Hindu goddess Kali and is among the most visited temple of Kali in India. It is one among the 51 shakti Sthals in India, therefore, the temple holds huge religious importance.
Botanical Gardens – The Botanical Gardens were founded in 1787 by Robert Kyd in Kolkata. These gardens are spread across 109 hectares of land and now its care is being taken by Botanical Survey of India. It houses the world's largest banyan tree which has a circumference measuring more than 330m.
Nakhoda Mosque – The Nakhoda Mosque is a century old mosque and is situated in Chitpur area of the Burrabazaar district of Kolkata. This colossal mosque has a giant prayer hall which can accommodate around 1000 people. The architecture of the minarets and domes is quite similar to the architectural styles of historical buildings in Fatehpur Sikri.
Alipore Zoo – The Alipore Zoo is commonly known as Zoological Garden Of Alipore or Calcutta Zoo. This zoo attracts hundreds of tourists and visitors daily in Kolkata. Being one of the oldest zoological gardens of India this zoo is quite popular among tourists.
Nearest airport – The nearest airport to reach Kolkata is in Kolkata itself.
Best time to visit Kolkata – The best time to visit Kolkata is from the month of October to March. Rest of the year it is quite humid in Kolkata.
Kolkata's best food items – Kolkata is famous for Bengalis and Bengali food items. Fish is the main staple food in Kolkata. You can find numerous types of fish made cuisines here. Not to forget, the very famous and scrumptiously delicious Kolkata's sweet delicacies. Do not forget to try chamcham, rosogullas, shondesh, rasmalai and many other sweets.
Shopping in Kolkata – Kolkata is also a shopper's paradise. You can shop for handicrafts, footwear, accessories, clothes etc in markets like the New Market, Gariahat Market, Hathibagan Market, College Road, Burrabazaar, South City Mall, Quest Mall, Mani Square Mall etc.
The land of kings Rajasthan is a world famous tourist spot. The cities Jaipur and Udaipur are Rajasthan's jewel cities. A huge number of vacationers and travellers visit these cities to admire the royal past of Rajasthan. Jaipur is known as the Pink city and Udaipur is known as the white city.
Jaipur is the capital of the state Rajasthan and is the largest city of the state. It is famous for its forts, palaces, gardens, temples and other significant historical places. Jaipur is also referred to as 'Paris of India'.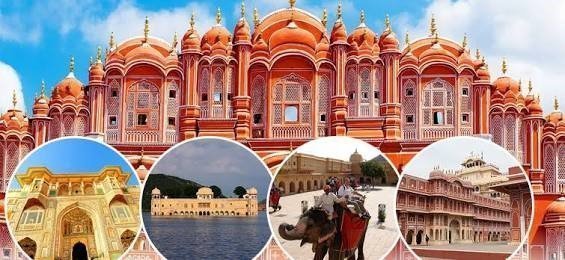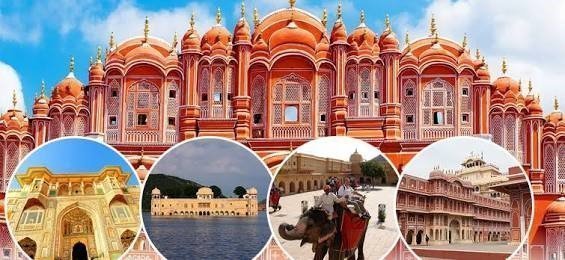 Udaipur, on the other hand, is known as the Venice of India. The city is full of lakes, giving a Venice like the view. This serene city is best for a romantic getaway with a luxurious travelling experience. Many of the beautiful palaces of this city have now been converted into luxurious and exotic hotels. The beauty and historical significance of these cities make them stand among the top 5 visiting places in India.
Jaipur sightseeing :
City Palace – The construction of the city palace got completed in 1732. The main attractions of this palace are the Mubarak Mahal and Chandra Mahal. The architecture of this palace is a fine blend of Rajput style, Mughal and the European style.
Hawa Mahal – The Hawa Mahal or the palace of winds was built in 1799 by Sawai Pratap Singh. The palace has 953 jharokhas or windows, which are intricately designed with artistic carvings.
Jantar Mantar – This observatory was constructed by Jai Singh II. There are many instruments which can be seen in Jantar Mantar. You can also find the world's biggest sundial in the Jantar Mantar of Jaipur.
Rambagh Palace – The Rambagh Palace is one of the most beautiful palaces in Jaipur. The beauty of this palace has made it be known as the Jewel of Jaipur. Now this palace has been converted into an exotic hotel and you can stay here to experience a royal treatment.
Albert Hall Museum – All the vintage and rare items enthusiasts can visit the Albert Hall Museum which is one of the oldest Museum of Jaipur. The Museum houses several exquisite pieces of brassware, ivory made goods, Jewellery, pottery, old paintings etc.
Jal Mahal – This architectural beauty stands in the middle of Man Sagar Lake. The Jal Mahal is a five-storeyed building. The architecture of this palace is a fine blend of Mughal and Rajput style of are and carvings. This palace is now converted into a luxurious hotel.
Nahargarh Fort – The Nahargarh Fort is one among the three major standing in the city of Jaipur. The Nahargarh surrounded Jaipur as a Defence Fort along with the Amber Fort and Jaigarh Fort.
Amber Fort – Visit the Amber fort which is situated on the outskirts of Jaipur. The amber fort was not much built as a military Fort. The ceilings of the fort were once adorned with precious stones. The palaces in the fort were constructed in the Mughal style of architecture.
Jaigarh Fort – Jaigarh Fort is one among the three forts which overlook the city Jaipur. The fort was constructed in 1729 by Jai Singh II. You can find the world's largest cannon on wheels, Jaivana, here in the Jaigarh Fort.
Nearest airport – The best airport to reach Jaipur is in Jaipur, that is, the Jaipur International Airport(JAI).
Best time to visit Jaipur – The best time to visit Jaipur is from January to March and from October to December. Rest of the Year the hot weather of the desert is not favourable for touring and sightseeing.
Jaipur's best food items- Although you can find all types of cuisines in Jaipur, one must try the Rajasthani and Jaipuri food. The cuisines types range from very sweet to very spicy. There are several international hotels and restaurants where you can find the best food to eat.
Shopping in Jaipur – Shop for handmade crafts and artistic items in Jaipur. You can find varied varieties of gems, jewellery and other artistic items in Jaipur. The famous markets of Jaipur are Bapu Bazar, Johri Bazar, Kishan pole Bazar, Siredeori bazar, Nehru Bazar and Manigaron Ka Rasta.
Read Here: Top Utility Apps for Android
Udaipur sightseeings :
City Palace – The city palace is one of the most famous tourist spots in Udaipur. This architectural marvel tells a lot about the royal past of Rajasthan and the regal Rajasthani culture. The city palace is a complex of several artistic buildings and palaces. It houses the vintage cars museum, Diwan-I-aam, Maharani Palace, Daawat-i-khaas and the breathtaking view of Lake Pichola.
Fateh Sagar Lake – Get drenched in the breathtaking view of the Fatehsagar Lake. This beautiful lake is among the major tourist attraction of Udaipur. Enjoy a boat ride on the lake and also visit the three islands of this lake, like, Nehru Park, Zoo etc.
Sajjangarh Palace – The Sajjangarh Palace or the Monsoon palace was the resting place of the Maharajas during monsoons. Situated on a hill, the view of this palace is no less than from a fairy tale. Also visit the amazing Sajjangarh Wildlife Sanctuary, situated near the palace, when you visit this monsoon palace.
Lake Pichola – The Lake Pichola is one of the most serene and eye soothing tourist place in Udaipur. Take a boat ride in this man-made lake starting from Rameshwar Ghat in City Palace. You will also find two islands in this lake, which are, Jagmandir and Jagniwas.
Eklingji Temple – The Eklingji Temple is dedicated to the Hindu god Lord Shiva. This temple is both a famous tourist attraction and religious place for the worshippers of Lord Shiva. The architecture of this temple is beautiful with carvings depicting the ancient past of this temple.
Lake Palace – Lake Palace is another Rajasthani architectural marvel built Lake Pichola. The breathtaking view of this palace is best for a romantic getaway. This palace is now run by the Taj group.
Jag Mandir – The Jag Mandir stands on its place since the 17th This glorious Mandir or Temple has an amazing view from outside, as, several marbles made elephants stand outside this temple. The Jag Mandir is a three storied building. You will also find some architectural marvels like the Gul Mahal, the Darikhana, a garden courtyard, Bara Pattharon Ka Mahal or Palace Of 12 Stones, Kunwar Pada Ka Mahal and Zenana Mahal.
Jagdish Temple – Visit the prodigious Jagdish Temple which was built by Maharana Jagat Singh. The temple is based on Indo Aryan architecture. The main attraction of this temple is the black stone made Lord Vishnu's idol. Many other idols of Hindu deities are installed in the temple.
Saheliyon Ki Bari – Saheliyon Ki Bari means 'garden of the maidens'. This garden was built by Maharana Bhopal Singh for the maidens who went around with his daughter, the princess of the palace. This beautiful garden is ornamented with exquisite flowers, marble archways and fountains etc.
Vintage classic cars museum – The vintage cars museum in Udaipur houses the royal wheels of the maharajas of Udaipur. These vintage cars are rare and priceless, they are restored and properly kept by the concerned authorities.
Nearest airport – The nearest airport is to reach Udaipur is Maharana Pratap Airport also known as Dabok airport, which is only 24 km away from Udaipur.
Best time to visit Udaipur – The best time to visit Udaipur is between January to March and October to December. Rest of the year Rajasthan is too hot and humid.
Read Here: Introduction to Microsoft Enterprise Library
Udaipur's best food items- Rajasthan is best known for its royal Rajasthani 'thali', which is, a huge plate full of Rajasthani cuisines, right from Rajasthani vegetables, curry dishes to rice, chapati(bread) and some mouth-watering sweets.
Shopping in Udaipur – Find exquisite artistic handicrafts in Udaipur to shop. The famous markets for shopping in Udaipur are Hathi Pol, Chetak Circle, Bada Bazaar and Palace Road.
The name 'Paradise on Earth' is given to Kashmir owing to its scintillating and breath-taking beauty. How many poems and contents have been written to describe the beauty of Jammu and Kashmir, but still it seems like the words fall less. This northernmost state of India is blessed with natural beauty. Thousands of local Indian and international tourists visit Jammu and Kashmir every year to admire the beauty of the state. Jammu and Kashmir is among the top 5 places in India to visit by foreigners.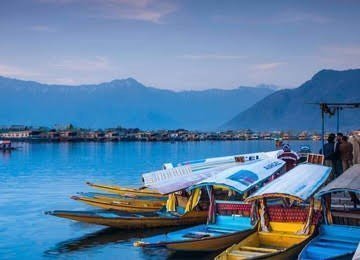 Kashmir sightseeings :
Srinagar – Being the capital city of Jammu and Kashmir Srinagar reflects the true colours of the state. Sitting quietly on the banks of Jhelum, this city reflects vivaciousness. The main essence and true beauty of Srinagar is reflected by the wooden houseboats, canopied Shikaras, the glistening water of Dal Lake dotted around with the snow-capped mountains. The adventurers can take part in water skiing in Dal Lake, golfing, trekking and bird watching in the Dachigam Wildlife Sanctuary.
Jammu City – Jammu City is a major tourist place in Jammu and Kashmir as well as an important pilgrimage place for Hindu. The very famous and blessed Mata Vaishno Devi temple is situated in Jammu on the Tirukuta hill. Find the place and get drenched in tranquillity by visiting this city of temples. You can seek peace and comfort in the divine places like Raghunath temple, Mahamaya Temple, Peer Baba, Ranbishwar temple and Peer Khoh.
Leh – Leh is the favourite tourist placed for adventure seekers and nature lovers both. It is a peaceful place with serene surroundings. The lofty mountains, divine Gompas, lakes give a soothing effect to its beholder. It is one of the most famous tourist spots in Jammu and Kashmir. Not only Leh is an adventurous place but also a haven for art lovers. The spiritual places like Spituk Monastery, Jama Masjid, Matho Monastery, Hemis Monastery, Alchi Monastery, Thiksey Monastery and Zorawar Fort are some of the architectural marvels standing in Leh.
Rajauri – Rajauri is a rural beauty of Kashmir. As it shares the border with Pakistan, you can see a blend of culture in people of both the countries. There are many charming and attractive places to visit in Rajouri like Dehra ki Gali, Thanna Mandi, Dhanidar Fort, Balidan Bhawan, Rajauri Fort, Rama Temple and Kotranka Budhal.
Gulmarg – Gulmarg is the place which is full of adventure and excitement. The ice-clad land of Gulmarg has made it to be skiers' paradise. Gulmarg means 'meadow of flowers'. This place is a haven for adventure enthusiast who are seeking some adrenaline rush. You have a wide option for excursions like, ice skiing, snowboarding, trekking, fishing, mountain biking and golfing. Apart from being an adventure spot, Gulmarg, is also a treat for the nature lovers. You can absorb the beauty of Apparwath peak, Kongdori and Shark Fin.
Kathua – Kathua is known as the city of Sufis as this place houses numerous Sufi shrines. This beautiful city is located on the bank of a river, making it stand as an important tourist destination in Jammu and Kashmir. Kathua is a religious place owing to the number of temples and shrines in this place. There are various temples in Kathua, like, Jasrota Temple, Mata Bala Sundri, Airwan Temple, Salt sarovar and Mata Sundrikote.
Read Here: RBI Allows Moratorium in INDIA
Sonmarg – If you are planning a trip to Jammu and Kashmir don't miss out visiting Sonmarg. This place is a visual treat for all the nature lovers with the extravagant landscape. This place use ideal for both nature and adventure lovers. Some of the activities includes trekking, while you can also visit places like Kishansar Lake, Vishansar Lake, Haramukh Mountain, Thajiwas Glacier, Baltal and not to forget Zojila Pass.
Pahalgam – Pahalgam is known as the Switzerland of India. The tranquilizing and serene view of the mountains and green meadows of Pahalgam will not let you leave that place. You can take part in activities like horse riding, golfing and trekking. Other excursion include Betaab Valley, Aru Valley, Sheshnag, Tulian Lake and Baisaran which you must visit to invigorate your senses.
Doda – Doda is famous for his bewitching landscape. this place is ideal for the nature lover as well as adventure enthusiast who are seeking for some adrenaline rushing activities. Doda has easy and adventurous trekking routes and after that, you can relax in the serene landscape. You can participate in the activities like rock climbing and mountaineering.
Pulwama – This place smells of the true beauty of Jamnu and Kashmir as the land of Pulwama is full of saffron fields. Pulwama has numerous sightseeing places like Tarsar Lake, Marsar Lake, Sikargarh, Nagberan, Aripal Nag and many other places. The panoramic view of the clear blue sky meeting the saffron fields is rejuvenating for your mind.
Baramullah – Baramulla is famous as the Gateway of Kashmir. It is a treasure of Kashmir which reflects the true beauty of Jammu and Kashmir. The natural surroundings are soothing to its beholder. Don't miss visiting the Wular lake which is the largest fresh water lake of Asia.
Pangong Lake – The azure beauty of Pangong Lake is bewitching. This lake is situated at a distance of 213 kms from Leh. The panoramic view and the clear water of the lake is picture perfect. The marshy region of the lake attracts many migratory and indigenous birds, giving a spectacular view to the bird lovers.
International airports in Jammu and Kashmir : There are three major airports in Jammu and Kashmir, they are, Jammu airport in Jammu City, The Aerodome Airport in Srinagar and the Kushok Bakula Rimpochee Airport in Leh.
Best time to visit Jammu and Kashmir – As Jammu and Kashmir is known as the Heaven on Earth, therefore, all the time of the year is ideal to visit Kashmir. However, snow lovers can visit this state in winters, while of you wish to admire the nature and lush green landscape of Jammu and Kashmir then visit this state in the spring season. This is another reason for Jammu and Kashmir to be among the top 5 tourist place in India.
Jammu and Kashmir's best food items- Jammu and Kashmir is famous for its different types of meat cuisines. One of the famous Kashmiri cuisines is Shah deg which is a meat and turnip cooked dish. Rogan josh, Yakhini and harissa are other popular dishes in Kashmir.
Shopping in Jammu and Kashmir – Kashmir is famous for its handicrafts and handwork embroidered clothes and shawls. You can find huge varieties of hand embroidered purses, clothes, dresses, shawls. One must buy a pashmina while visiting Kashmir. You can also find other items like carpets and furniture with intricate carvings.
Read Here: Importance of Gamification
Kerala is known as God's own country. And why not, the pristine water, lush greenery and the clear sky actually depicts it as god's own country. Kerala is among the top 5 places in India to visit. The clear water of the beaches hitting the shores is a sight which will erase all your worries and work stress. The rich wildlife, snake boat rides, backwaters, aromatherapies, rejuvenating Ayurvedic treatments, an offbeat form of art and architecture, warm and aromatic spices along with some of the best seafood are Kerala's tourist attractions which draw tourists from all over the world every year.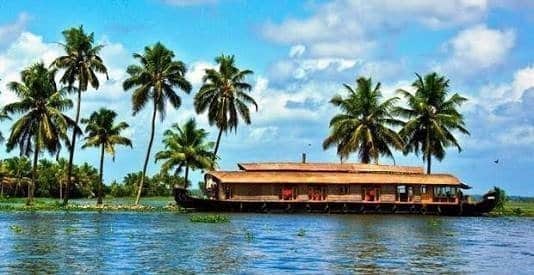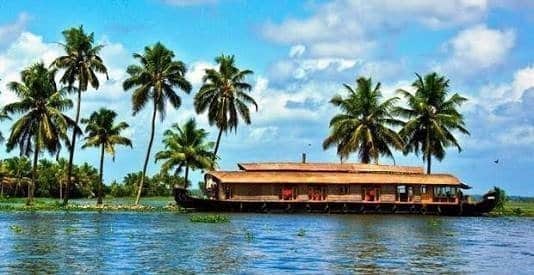 Kerala Sightseeings :
Munnar – Munnar is among the favourite holiday destinations of the tourists from India and abroad too. Some of the best places to visit in Munnar are Mattupetty Dam, Munnar Tea museum, Eravikulam National Park, Hydel Park, Kundala Lake, echo station and point, Top station and many other attractive tourist sites.
Cochin – Cochin or Kochi is another exquisite tourist destination in Kerala. The backwaters, hill stations and beaches all will leave you awestruck with their beauty. The greenery of the palm trees, and the rich flora and fauna of Cochin gives a posh environment to this place. Some of the best tourist attractions include, Mattancherry Palace, St Francis church, marine drive, Jew town, Chinese fishing nets, Santa Cruz Cathedral Basilica, Cochin beach etc.
Kumarakom – Kumarakom is the best place for people seeking some solitude and peace away from the busy roads and life of the city. Kumarakom is known for its emerald green backwaters, rich vegetation and pristine waters. Kumarakom gives a luxurious touring experience along with some of the best tourist spots like, Kumarakom Bird Sanctuary, Jama masjid, Vembanad Lake, Pathiramanal, Aymanam Village, Thirunakkara Mahadev temple etc.
Kovalam – Kovalam is famous for its beaches. If you are looking for an offbeat beach holiday then do visit Kovalam in Kerala. Kovalam is another reason for Kerala to be in the top 5 visiting places in India. The beaches of Kovalam offer the best water sports. Popular beaches in Kovalam are, Hawa beach, Lighthouse beach, samudra beach and Karamana river.
Read Here: Best Lens for iPhone Photography
Periyar – Periyar is a deciduous forest area, and is quite popular among international tourists. The mystical mountains, rich biodiversity and spice plantation give a satiating experience to its tourists. Periyar is located on the border of Kerala and Tamil Nadu. Being a famous tourist place it has some of the best tourist attractions like, Periyar Tiger Trail, Periyar Wildlife Sanctuary, Vandanmedu, Chellarkovil, Kumily, Periyar Lake, Ramakkalmedu etc.
Alleppey – Considering the gloriously beautiful landscape of Alleppy it is referred to as 'Venice of the East's by numerous tourists and travellers. The main tourist attractions of Alleppy are, Pathiramanal, Krishnapuram Palace, Alappuzha Beach, Kayamkulam and many more amazing tourist spots.
Wayanad – This hidden paradise in Kerala is a treasure trove with natural and utterly serene surroundings. Wayanad has some of the best tourist attractions like, Banasura Sagar Dam, Wayanad wildlife sanctuary, Wayanad Heritage museum, Thirunelli Temple, Phantom rock, chembra park, kanthanpara waterfalls etc.
Kollam – The striking backwaters and the lush green surroundings are soothing to its beholder and scintillating to the tired senses. Some of the tourist attractions of Kollam are, Mahatma Gandhi Beach, Palaruvi Waterfalls, Karunagappally, ashtamudi Lake etc.
International airports in Kerala – You can find the international airport in Thiruvananthapuram, Kochi and Calicut.
Best time to visit Kerala – Kerala is situated in the southern region of India. Therefore it is mostly humid there. The best time to plan a trip to Kerala is in November December, January and February.
Kerala's famous food items – Kerala is famous worldwide for its sea food and South Indian cuisines like Dosa, idli, Sāmbhar etc. The interesting part is that all the food items of Kerala are made in pure coconut oil and according to the culture of Kerala, the food is served in banana leaves instead of plates.
Shopping in Kerala – Kerala is famous for its south cotton fabrics and many other things. The gold and silver of Kerala is of the best quality. You can also buy spices and dry fruits from Kerala.
The beautiful city Orchha is an ideal tourist destination for foreign tourists to visit in India. Orchha is in the Madhya Pradesh state of India. This historic gem of a city is situated near the banks of the Betwa river. The grand palaces, forts, temples and other architectural marvels are a treat to its tourists. The breath-taking landscape and scenic beauty of the city is surely a photographer's paradise. Orchha is among the top 5 places not to miss while visiting India.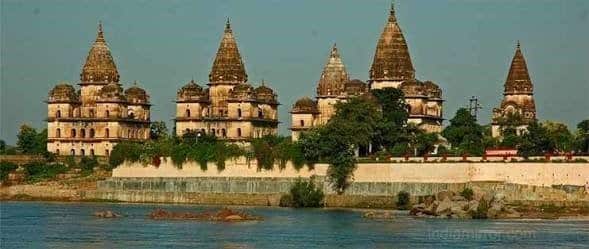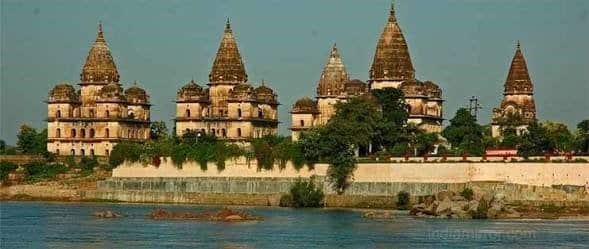 Orchha sightseeings :
Jahangir Mahal – The mughals constructed this palace to be served as a citadel and a garrison to practice stronger ruling hold in Bundela. The palace was completed by Bharath Bhushan in 1598.
Raja Mahal – The Raja Mahal in Orchha fort was built in 17th This palace is a fine example of the historical golden era of Orchha .
Phool Bagh – The Phool Bagh is a famous tourist spot in Orchha. There are numerous fountains in the bagh or 'garden'. This garden is the fine example of the aesthetic sense of the great Bundelas.
Ram Raja Temple –The Ram Raja temple is another famous tourist spot in Orchha because of it's religious importance, fine architecture and an intriguing historic story.
Chattris (or cenotaphs) – The Chattris or the cenotaphs were built beside the river Betwa. These cenotaphs are the royal tombs of the great maharajas of Orchha.
Read Here: Uncharted Developers Add New Protagonist
Boating and river rafting in Betwa river – If you are an adventure junkie, then you can book tickets for boating and river rafting in the Betwa river.
Rani Mahal – The Rani Mahal in Orchha is another structural marvel whole architectural beauty is mesmerizing. The enchanting paintings and awe-inspiring carvings of the palace speaks a lot about the artists of the historic period.
Chaturbhuj Temple – The Chaturbhuj Temple is dedicated to Hindu God Lord Vishnu. This temple was built during the reign of Gurjara Pratihara dynasty in 875 AD. The name 'Chaturbhuj' means 'the one with four arms' and according to Hindu religious beliefs, Lord Vishnu is also called as Chaturbhuj.
Chandrashekhar Azad Memorial – The Chandrashekhar Azad Memorial was raised in the memory of Chandrashekhar Azad, who was one of the greatest freedom fighter of India. You can find a life size status of Chandrashekhar Azad made in bronze.
Lakshminarayan Temple – Visit the Lakshminarayan Temple which is a fine structural blend of a temple and a fort. The artistic murals in the temple reflect the themes depicting spiritual, mythological and secular ideals.
Indulge in ayurvedic massages – The Orchha resorts and Ajar Mahal have ayurvedic massage sections, where you can get soothing and relaxing ayurvedic treatments and massages.
Nearest airport – The nearest airport to reach Orchha is in Khajuraho. The Khajuraho Airport(HJR). From the airport, you can book a cab or take a bus to reach Orchha.
Best time to visit Orchha – The best time to visit Orchha is from July to march. You must avoid visiting Orchha during April to June as it is too hot during these months in Orchha, and the temperature is not at all favourable for sightseeing.
Read Here: New Features in Mass Effect 4
Orchha's best food items – Orchha is a popular tourist destination situated in the heart of India. Therefore, you can find numerous restaurants which offer different types of cuisines to serve all the tourists. The famous delicacies of Orchha are Khoprapak, bhutte ki kees, mawa-bati, kebabs and malpua.
Shopping in Orchha – Head to the City Shopping area of Orchha to buy gemstones, ornaments, handicrafts, handicraft fabrics, souvenirs etc.
As we can see, India is indeed a nation with diversity and offers many opportunities and ethereal landscapes for the Indian as well as foreign tourists to spend quality time in India. The above 5 places were the top 5 tourists places in India which every foreign tourist must visit while planning a trip to India.
Here are some of our other articles that might interest you: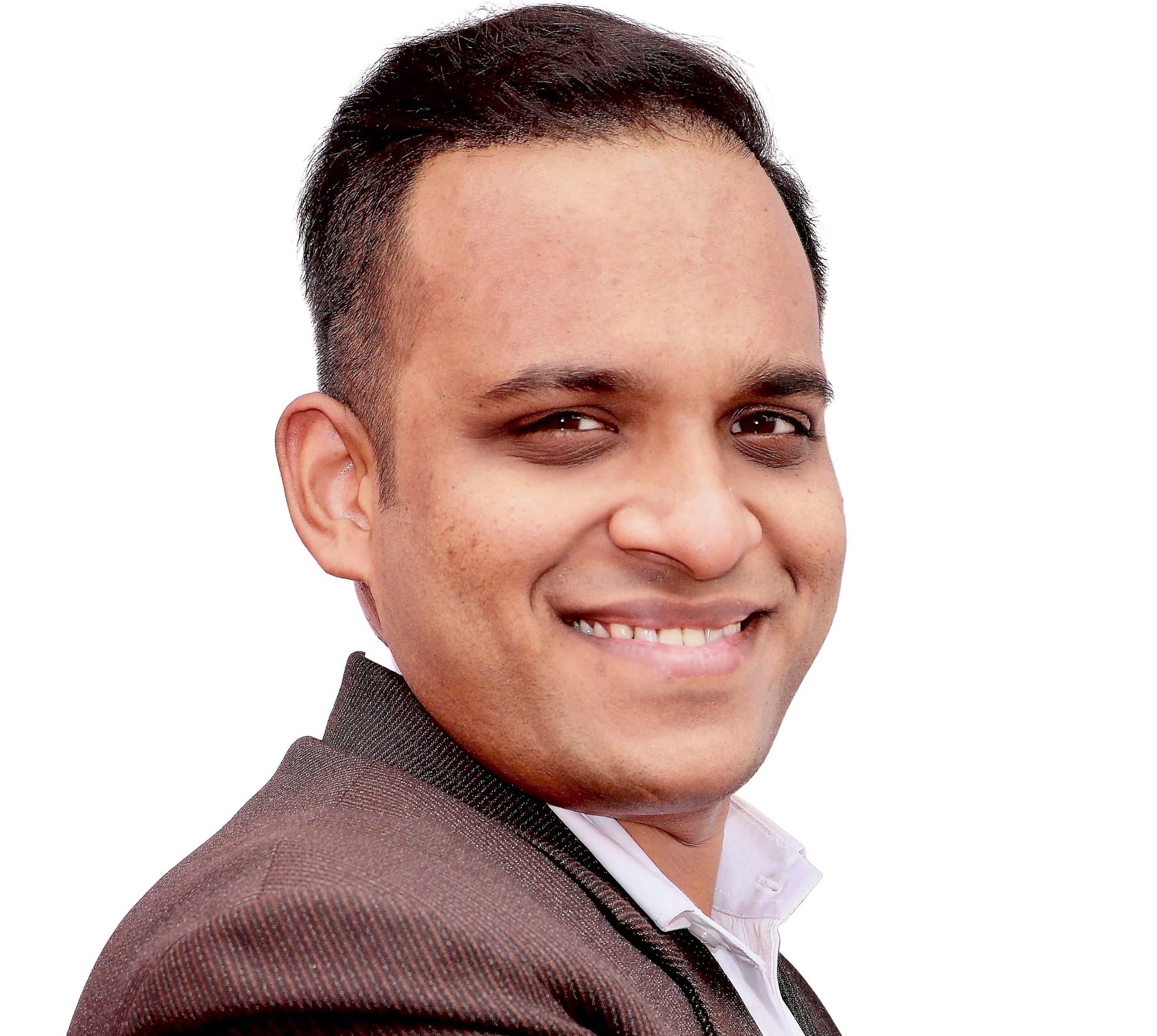 I am a 31-year-old dude from a lower-middle-class family hailing from a small village Narasinghpur in Cuttack, Odisha, INDIA. I have a post-graduate degree in M.Tech from BITS Pilani. I started blogging back in June 2014. You can check out my journey and all that I have learnt all these years on my website.